Spendthrift Farm announced Aug. 18 the death of industry pioneer B. Wayne Hughes, who died peacefully in his home at his beloved Spendthrift Farm with loving family by his side.
The longtime horse racing visionary and leader—best known within the industry for returning Spendthrift to prominence—was 87.
Hughes had been one of the sport's most influential figures of the 21st century, with wide-ranging contributions that will forever impact Thoroughbred breeding and racing. He purchased Spendthrift in 2004 and traded in his residence of California for a life on the farm in Lexington. Hughes quickly began restoring the historic brand and its land, renovating almost all the farm's signature structures, and returning Spendthrift as a viable commercial breeding operation.
In 2008, he stood his first four home-raced stallions led by emerging kingpin sire Malibu Moon  , who passed away this May at age 24. Hughes would revolutionize the business relationship between stallion owner and mare owner through ground-breaking programs, most notably "Share The Upside," which he designed to bonus the breeder with a vested interest in a stallion. Under Hughes, Spendthrift's slogan became "The Breeders' Farm" and he operated under a motto heard often by those who worked with him: "Breeders are the backbone of our industry."
"We have to take care of the breeder and level the playing field between stallion owner and breeder," said Hughes, upon launching Share The Upside in 2010. "You have people here, they have a farm, they need to sell their foal, they need to have a chance of making money. I need to provide the best investment programs I can. Breeders participate in making these stallions, so they should be participating in the success, too."  
The inaugural stallion he offered through the Share The Upside program was his home-raced grade 1 winner Into Mischief  , who is now one of the most valuable horses in the world after a meteoric ascent to the top of the stallion ranks. Into Mischief is the reigning champion general sire in North America in 2019 and 2020 and is on a record-setting pace again in 2021.
Josh Pons of Country Life Farm recalled the partnership with Hughes that took Malibu Moon from standing in Maryland to becoming a legendary Kentucky sire.
"He was a great partner," Pons said. "He would never make a promise that he couldn't keep, so when you got him to make a promise, you didn't have to worry about anything else. He didn't say yes to a lot of things. That's how he lived. If he said 'yes,' it was a yes.
"When we started off with Malibu Moon, he faxed me a two-paragraph agreement and said, 'I thought about this and I think the horse would be best served to stand in Maryland. If you're agreeable, send this note back,'" Pons said. "We didn't go through lawyers; we did none of the due diligence you would normally do. We had this trust factor. He kind of sized us up and we sized him up.
"It was a long shot that Malibu Moon would hit. Mr. Hughes said, 'Stand him up there for four years and make him good enough to come back to Kentucky.' He tried to bring out the best in you. He told me, 'If there's 400 mares in Maryland, I want you to get all 400.' I said, 'We'll be lucky to get 100.' We got 101 and they had the best foals of their life. He really wanted the horse to go to Kentucky, and we wanted to make that happen for him. My brother Mike and I understood that was the goal he set out for us, and we accomplished it.
"As for his legacy in the business, that's not final yet. He changed the game in so many ways. He's brought a lot of new people into the sport, and all of us are the beneficiaries of that."
Hughes also experienced his greatest successes as a racehorse owner with close relatives to Into Mischief. Beholder , a younger half sister to the great sire, campaigned in Hughes' famed quartered purple and orange colors by trainer Richard Mandella to become one of only three female horses in history to be a four-time champion after taking Eclipse Award honors in 2012-13 and 2015-16. She was a three-time Breeders' Cup World Championships winner and won 11 grade 1s before retiring to Spendthrift where she currently resides as a broodmare.
After Beholder dominated males by 8 1/4 lengths in the 2015 $1 Million TVG Pacific Classic (G1) at Del Mar, Hughes said: "I've had a few good horses in the past, but she is the first horse that makes me feel lucky to be the owner. I've never had that feeling before. I think it's called pride."
Hall of Famer Gary Stevens, who rode Beholder in 16 of her 26 starts, recalled that moment.
"That was an awesome day," he said. "Mr. Hughes said it was the first time he ever really felt real pride being the owner of a horse, and I felt the same way that day—immensely proud. Sharing that with Mr. Hughes, that was maybe one of the most magnificent moments we had together."
Stevens recalled Hughes as "a pioneer of all industries, but especially the Thoroughbred industry," adding, "Anybody that would listen to him could learn a whole lot."
(L-R): Richard Mandella, Gary Stevens, and B. Wayne Hughes celebrate after Beholder's 2016 Breeders' Cup Distaff win at Santa Anita Park
Mandella remembered an industry giant who became a close friend.
"He was bigger than life," the Hall of Famer said. "It is hard to imagine that he's gone. We had such laughs and a good time. I not only lost a good client, I lost a good friend. It will be hard to get used to not having that. 
"He meant an awful lot to me, in more ways than just racing."
One of their early successes together was 2003 Bessemer Trust Breeders' Cup Juvenile (G1) winner Action This Day , who went on to become champion 2-year-old male that season.
"I think it was his racing manager, Seth Semkin, who let me know that Mr. Hughes had asked if I'd take some 2-year-olds for him," Mandella recalled. "He did struggle in the business for a number of years. He spent a lot of years learning and putting it together. But then when he got the bit in his teeth, he looked like Silky Sullivan.
"He was always a real racing enthusiast, coming to the track and being part of the world, until he bought Spendthrift Farm. Once he did, it was like a spell came over him. It just consumed him. He didn't just phone it in, either. He was involved in every aspect and made it his life.
"With Wayne, there wasn't a lot of formality to anything. He was a very down-to-earth guy, but you look back and see what a genius he was in so many ways."
Last year, Hughes, in his 50th year as a racehorse owner, achieved the single greatest feat in horse racing by winning the elusive Kentucky Derby Presented by Woodford Reserve (G1) with the 3-year-old colt Authentic  , a son of Into Mischief. Authentic had become the embodiment of the pioneer spirit of Hughes, whose innovative marketing 10 years prior had given Into Mischief the best opportunity to become a successful sire. Authentic also represented that spirit through MyRacehorse.com, an upstart online horse racing ownership company that Hughes boldly championed by offering anyone with $206 an equity-based microshare of his Kentucky Derby contender.  
Churchill Downs racetrack president Mike Anderson said in a statement Wednesday evening, "The entire Churchill Downs family was saddened to learn about the passing of legendary owner and breeder B. Wayne Hughes. Mr. Hughes was a visionary, who elevated Spendthrift Farm to new heights. We take solace in knowing that he was able to enjoy and win America's greatest race last September when Authentic led every step of the way to garner the roses and solid gold Kentucky Derby trophy he coveted for many years. Our sincere condolences are extended to his numerous friends and family and the Spendthrift Farm team during this difficult time. He will be greatly missed."
Nearly one year ago, Authentic won the Derby for Hughes, his partners, and 5,314 every-day people who had bought in and came along for the journey. Authentic would go on to win the Longines Breeders' Cup Classic (G1) over older horses last November with Hughes in attendance at Keeneland to accept the trophy in the winner's circle. It would be the colt's final start before retiring to stud duty at Spendthrift and being named as North America's Horse of the Year for 2020.
"We were very saddened to learn of the passing of B. Wayne Hughes, who has left an indelible impact and legacy on our sport as a breeder, owner, and industry innovator for the past 20 years," said Breeders' Cup in a statement commemorating Hughes. "Among his many triumphs in racing, Mr. Hughes won six Breeders' Cup races, highlighted by the great mare Beholder, who won three of them and was the recipient of four Eclipse Awards. Mr. Hughes also served us proudly as an innovator on our board of directors. In recent years, Mr. Hughes developed the MyRacehorse ownership program, which offered everyday fans the chance to experience owning a piece of a racehorse through the online purchase of micro-shares, including 2020 Longines Breeders' Cup Classic winner Authentic. We express our deepest sympathies to his wife Patricia, his extended family, and all those who are a part of the Spendthrift team."
Mandella said he has gotten a few more horses from Hughes because of his involvement in MyRacehorse.
"He knew if you got people to own a piece of these horses, then you've not only made fans of them, but pulled them into the game and put them on a team," Mandella said. "Then they have friends and it mushrooms. You are creating dedicated fans … and they are really caring about the business."
Born Bradley Wayne in Gotebo, Okla., Hughes was raised the son of a sharecropper. He moved to California as a child and was introduced to horse racing by his father who took him to Santa Anita Park for the first time as an 11-year-old. Hughes was renowned for having an unparalleled work ethic from a young age, starting a newspaper delivery route as a teenager to help pay for college. He served as an officer in the Navy and went on to graduate from the University of Southern California before achieving tremendous success in business, starting such companies as Public Storage and American Homes 4 Rent.
Shortly after retiring as CEO of Public Storage in 2002, he turned much of his focus to horse racing. Action This Day, whose Breeders' Cup Juvenile win came at Hughes' home track of Santa Anita, brought him his first of six Breeders' Cup wins and six Eclipse Award wins.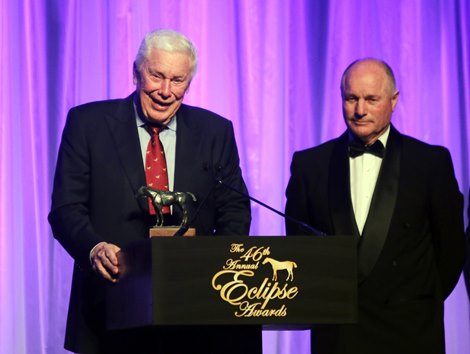 (L-R): B. Wayne Hughes and Richard Mandella accept Beholder's Eclipse Award for outstanding older dirt female of 2016
Said Hughes after being honored as the 2020 Galbreath Award winner by the University of Louisville: "Thoroughbred horse racing has been a tremendous passion of mine ever since my father took me to the races as a young boy. It's something he and I got to share together, and I've been fortunate to be able to make it a large part of my life and share it with so many that are dear to me.
"There are few thrills greater than what horse racing can provide, and it is our responsibility to do a better job of improving this great sport so that future generations can enjoy it as much as I have."
"To have known Wayne Hughes is to know he loved life, his country, University of Southern California and its football team, the horses, and his family," the farm said in its remembrance of him.
"The game desperately needs people like Wayne," Mandella said. "Then again, there's not that many people like that in the world, period."
Hughes was preceded in death by his father William Lawrence, his mother Blanche, and his son Parker. Following the death of his youngest son Parker in 1998, Hughes passionately committed himself to the curing of childhood leukemia, ultimately accomplishing astonishing results in that area. He is survived by his wife Patricia, his son Wayne Jr. (Molly), his daughter Tamara Gustavson (Eric), his grandchildren Kylie Barraza (Pat), Skylar Hughes, Grant and Greer Gustavson, his sister Sue Caldwell and family, Frank, Bill, Allen, and a host of beloved cousins and friends.
In lieu of flowers, the family requests donations to the B. Wayne Hughes Fund at UK HealthCare, P.O. Box 34184, Lexington, KY, 40588.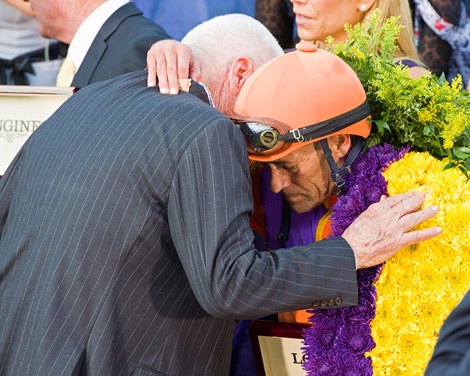 B. Wayne Hughes and Gary Stevens share a moment after Beholder's 2016 Breeders' Cup Distaff win